Hi Everyone!!
I'm so thrilled to be here today at Redhead Can Decorate.
Thank you so much Julie for inviting me over to share a little about myself and my blog.
My name is Nancy and I blog over at Artsy Chicks Rule.

I love DIY, decorating on a budget ( but not having it look as if you did!), reinventing old thrifty finds and just anything creative.
The style I love most is …. not really summed up in one word.
I love French Country, Coastal Cottage with a bit of Vintage and a touch of Whimsy.
A mouthful, I know!
I'd love to share a few of my favorite projects and room remodels with you today.
I LOVE before and afters, don't you? And room makeovers.
Here are two of my favorite room makeovers in our home….
Our family room was nicknamed "the cave" (rightly so) because it was SO dark when we moved in.
No more, thank goodness. We removed the dark paneling, added paint and DIY Faux Board & Batten, etc.
It really brightened things up.
You can read more about it here –> Family Room Makeover.
I've recently posted about our Kitchen remodel too….it's a doozy!
You can read more here –> Major Kitchen Remodel
I also love to reinvent old furniture. It's one of my very favorite things to do.
This $35 thrifted dresser became one of my most treasured pieces in my home…..
I also had to make a handle for this pretty. You can read about the dresser here –> Aubusson Blue Dresser
And the handle here –> Missing Hardware? Here's a Fix
I love graphics (that would be the "French Country")
I've painted quite a few things in my home with French graphics.
I just cannot seem to get enough!
You can see more about this piece here –> French Cabinet
I'm also a sign lover, although my husband has mentioned we have no more need of any in this home. 😉
Oh, I'm sure I can find a place for another!
Here's a favorite…
Who doesn't love cake? See more here –> Eat Cake Sign Tutorial
Paint…I am a paint girl through and through. I love to paint walls (weird, I know) and things.
Anything really. Even furniture.
Like this chair I painted with Annie Sloan Chalk Paint….
I did.
I love this chair. I've painted two and several pillows now.
Read more about the chair here –> Chalk Painted Upholstered Chair
Lastly, I love to re-invent things.
Like this 3 tiered jewelry tray….
How fun to recreate something in a totally new and different way?
Read more about the tray here – Tiered Jewelry Tray
I always say, don't pass up those thrift store finds. Think a bit past what you see….and envision what they can be instead!
Plus, you'd be amazed at how thriftily you can decorate your home this way.
Restore, restyle and then relove. 🙂
Thank you again for having me today Julie!
If you'd like to see more you can visit me at Artsy Chicks Rule.
I also have a new food blog (if you like food too 😉 ) over at Foodies Chicks Rule, of course!
Hope to see you!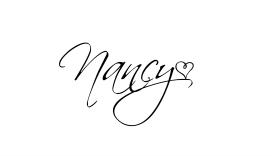 Follow along! –> Instagram ~ Facebook ~ Pinterest ~ Bloglovin

Tags: The Blogger Spotlight: Artsy Chicks Rule

Posted

by