This isn't an April Fool's joke!
I really am excited about this broccoli recipe.
I've seen it all over Pinterest, but tweaked it my way.
It's fast, you usually have every ingredient, and the kids love it.
Oh, and it will help you live longer 🙂
The nutty, lemon flavor of this "Roasted Broccoli" could even change President George Bush's mind I bet!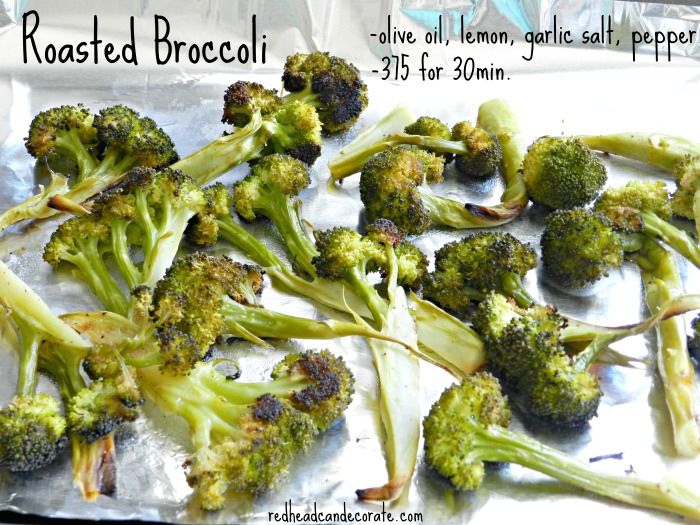 Ingredients
1-3 heads of fresh broccoli (washed, 1 inch off bottom, slice into spears)
olive oil
fresh lemon juice from 1/2 of a lemon (plastic squeeze lemon fine)
garlic salt
pepper
Instructions
Preheat oven to 375 degrees.
Place tin foil on cookie sheet.
Place broccoli on cookie sheet.
Drizzle olive oil all over broccoli. Very little is needed.
Squeeze 1/2 of a lemon all over broccoli.
Gently sprinkle a little garlic salt all over broccoli.
Add a dash of pepper.
Mix it all up with your clean hands.
Roast in oven for 30 minutes.
It's great hot, room temp., cold, as a snack, or with a meal.
https://redheadcandecorate.com/2014/04/roasted-broccoli/
This recipe is copyrighted by redheadcandecorate.com.
One more thing…
Last night I was feeling rather discouraged and I was discussing my frustrations with my hubby.
He could have just said, "Don't worry about it, it will get better, honey."
Instead, he listened to me, and then he offered an idea.
He pushed me a little.
It was all I needed to get over that hump.
So, I made this.
(Feel free to copy and paste.)
Posted

by